2022 Kia Carnival Release Info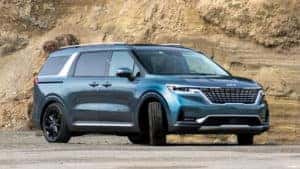 While Kia Motors were once known for poorly built automobiles that provided nothing special other than stellar warranties on their products, they have now evolved as some of the most stunning and robust automakers in the business over the years that still provide a stellar warranty. Despite being the corporate partner with Hyundai and sharing some vital features like performance and power engines, Kia's products are unique. Their products have distinct characteristics that help them to stand out from their rivals.
With the massive success of the 2021 model, Kia has now launched a new 2022 Carnival model. The new 2022 Kia Carnival is more prominent and comes with a more SUV-ish structure. It features the latest iteration of Kia's renowned Tiger Nose grille, a more promising outlook, and great split LED headlamps.
The new 2022 Kia Carnival is available in LX, EX, SX, and SX Prestige trim levels.
What Can You Expect From the 2022 Kia Carnival?
Pros
Powerful V-6 Engine
Slide flex seating system
More spacious and more comfortable
Loaded with multiple safety features
Cons
Body lean and numb steering
No hybrid function or all-wheel drive feature
Limited storage solutions as compared to its rivals.
2022 Kia Carnival Trims
The 2022 Kia Carnival comes with four trim levels starting from the value-oriented LX to the deluxe SX-Prestige, but it comes across as though the EX implies the sweet spot between characteristics and price. The EX trim is packed with numerous comfort features that help to justify the cost of the vehicle. It includes a power-operated rear liftgate, an in-cabin intercom, and a voice-control system that enables rear-seat passengers to give commands to the Carnival's all-new infotainment system.
2022 Kia Carnival Engine Performance
The 2022 Kia Carnival is powered by an outstanding 3.5-liter V-6 churning out a robust 290 hp; an eight-speed automatic transmission is basic. All-wheel-drive feature, however, is not given in the new model, as the 2022 Carnival will support only a front-wheel-drive model. Unlike its rivals, such as The Pacifica with an optional plug-in-hybrid powertrain and the Sienna that offers a hybrid function, Kia does not offer such a setup on the all-new 2022 Carnival, at least not right away. Kia claims that the Carnival can still tow up to 3500 pounds which will be fantastic to see.
2022 Kia Carnival Interior Design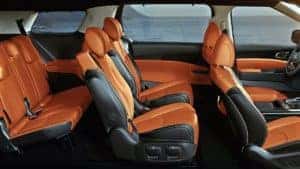 The Kia 2022 Carnival comes with a more modern and accommodating dashboard and the front-seat area than the outgoing Sedona's. It is also designed with a vast center console and an elective Mercedes-style dual-screen infotainment system with a digital gauge display. Moreover, The upscale SX-Prestige trim offers leather finishings, and comfortable reclining second-row seats are equipped with pop-up footrests. A panoramic sunroof feature is optional and contributes to a large opening over the second row so you can enjoy the fresh air.
Kia announces that interior spaciousness has been significantly increased on the new 2022 Carnival; both the van's wheelbase and overall length have been extended to offer more room.
2022 Kia Carnival Infotainment System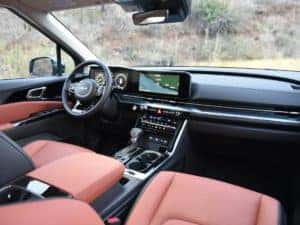 Interior technology and infotainment take a giant leap forward in the brand new 2022 Kia Carnival. While a single 8.0-inch infotainment display screen is standard, dual 12.3-inch display screens that span across two-thirds of the van's dashboard are the remarkable changes, with one operating as a digital gauge display and the other serving various infotainment functions. In addition, you get standard Apple CarPlay and Android Auto functions and Up to nine USB ports around the Carnival's cabin area. If we talk about the rear-seat entertainment system, it is standard starting on the SX trim; however, a 12-speaker Bose stereo is limited to the top-spec SX-Prestige trim.
2022 Kia Carnival Safety Features
The 2022 Kia Carnival is packed with a lot more standard driver-assistance features such as lane-keeping assistance, automated high-beam headlamps, and blind-spot monitoring. These will help the 2022 Carnival compete with its counterparts like Pacifica, Odyssey, and Sienna.
Some of the vital safety features that you are likely to find in your new Carnival are:
The automatic emergency brake controlling system with pedestrian detection.
The lane-departure warning feature with lane-keeping assistance
The adaptive cruise control function.
What is the Difference From the 2021 Kia Carnival Model?
For about two decades, the Kia Sedona has been a number one choice for many minivan motorheads. However, going into the 2022 model year, the Kia's well-appreciated Sedona has officially been restored by the 2022 Carnival model. While both the models are practically similar, the 2022 Carnival is a next-generation vehicle. Let's see how:
Both the Carnival and the Sedona provide car-like skillfulness and the features of the third row of seats in a spacious cabin. The abilities of the Sedona lacks slightly from those of the more robust Carnival. The Sedona is equipped with a V6, 3.3-liter engine that can produce 276 horsepower and can tow weight up to 3,500 pounds. On the other hand, The 2022 Carnival's V6 engine can transmit 290 horsepower, however, with the same towing capability as the 2021 Sedona.
The 2022 Kia Carnival possesses outstanding design and styling from front to rear, and its ultra-high profile and unique dimensions make it a clear standout on the road. The Sedona has a traditional minivan look with a low angled nose, a flat roof, and moderate definition through the sides, whereas The 2022 Carnival offers more purpose and character. It has an SUV-like posture except for the sliding feature of the second row from the side view. Moreover, The Carnival delivers a chrome-underscored grille with a stunning mesh pattern and integrated LED headlamps.
At the higher trim levels, the 2021 model offered premium elements like leather upholstery, a wireless phone charger, heated front seats, stylish sliding doors, Smart Key, and more. You can find many of these elements in most or all of the 2022 Carnival trim levels. In addition, The Carnival also comes with a slide-flex system for the rear seats, dual 12-inch display screens, a 360-degree monitor, navigation-based cruise control, wireless intelligent device app integration, a rear cabin camera, and much more to look forward to.
2022 Kia Carnival Release Date
The new spectacular 2022 Kia Carnival is the all-new and upgraded version of an old Sedona minivan that is a multipurpose van loaded with various exciting and excellent features, unlike its predecessor. It is already released and available for motorheads in their nearby stores to get their hands on.
Pre Order a 2022 Kia Carnival Today!
If you are interested in being one of the first to own a 2022 Kia Carnival, contact Carolina Kia today! We would be glad to help you get into a brand new Kia Carnival. If you have any more questions about the release of the Kia Carnival, we will answer all of your questions. Fill out the contact form below to inquire about this new model or give us a call at (336) 884-7000 today! We look forward to hearing from you!