2022 Kia Telluride Release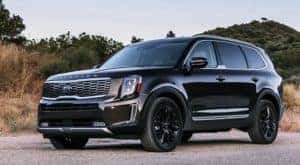 The Characteristic that differentiates this 2022 KIA Telluride Sports Utility Vehicle from its competitors' three-row big SUVs is its stylish and sleek looks. This luxurious-looking car is a great value for its customers as the features and looks of this vehicle are incredible. KIA has brilliantly fulfilled its core value that is to make cars that are comfortable for big families and their cargo. So if you are a person who is looking for a big SUV with handsome looks then this car is for you. Below are given some of 2022 KIA Telluride features for you to better understand this vehicle;
Specifications of the New 2022 KIA Telluride
Fuel Economy
This model's basic version having the front-wheel-drive has an estimated 20 miles per gallon rating in the city and gives around 26 miles per gallon on the highway which is 23 mpg combined. However, in the All-wheel drive version of this vehicle, the ratings drop a little and give around 19 miles per gallon in the city and 24 miles per gallon on the highway.
Tank Size
The fuel or gas tank capacity of the 2022 KIA Telluride is 18.8 gallons. Both versions of this vehicle have the same fuel tank capacity. This model with its tank filled with fuel can cover about 357.2 miles in the city and 451.2 miles on the highway. The fuel efficiency this vehicle provides is slightly higher than its competitor vehicles.
Passenger Capacity
The 2022 KIA Telluride is three rows of passenger seat crossover which comes at the bigger end of mid-sized SUVs. The cabin's seats can fit 8 people with the second-row's bench seat and seven people with its original captain's chair which is a feature of its upper trims. There is plenty of headroom and leg space as this car is more spacious than its previous models.
Cargo Space
The 2022 KIA Telluride has ample space for cargo as well. the trunk of this vehicle can fit around 21 cubic feet of cargo that is behind the third row of seats. With the second row folded, the cargo space is 46 cubic feet, and with the third row folded, the cargo space becomes 87 cubic feet. The space for cargo in this vehicle is plenty as compared to its previous models and competitors. Moreover, the Telluride can tow up to 5000 lb of weight. In a test conducted, the trunk of Telluride can fit four carry-on suitcases and with its second and third row of seats folded, it can fit 35 carry-on suitcases.
Transmission
This vehicle has an 8-speed automatic transmission that helps in smooth rides on roads and off-road adventures. Also, this vehicle can easily drive on uneven terrain and especially with the all-wheel-drive trim.
Release Date of 2022 KIA Telluride
The 2021 model of KIA Telluride is all sold out but no confirmed date or month has not been made public by KIA. However, according to the previous releases of KIA models, this 2022 Telluride is expected to come out in the fall of the year 2022.
Cost of 2022 KIA Telluride
The starting price of the base model of the new 2022 KIA Telluride is $34,015 which is the Telluride LX. The second trim that is Telluride S will cost you $36,515, the third one that is Telluride EX starts from $39,015, the final fourth trim level is the fanciest and comes with a starting price tag of $43,915. If we compare the price of this 2022 model with the 2021 Telluride then this newer model is $2,025 more expensive than its older version as the 2021 KIA Telluride's starting price is $31,990. The price difference is justified here as KIA has made many changed to the previous model to make this car upscale.
This new Telluride is fuel-efficient enough if we look at the size of this car. The owners can get its fuel tank filled an estimated $47 if the fuel rate is $2.5 which will cover 400-500 miles of distance.
The older 2021 Telluride version of this model is cheaper to maintain as it takes about $8,069 during its first 10 years of service which is quite lesser than its competitor's maintenance prices. In addition, if someone wants to upgrade their older 2021 version instead of buying the new one it can cost them $1200 for all-wheel drive feature, and adding those fancy features by getting the highest trim model of the 2021 model will cost an additional $10,000.
Differences between the previous version and the 2022 KIA Telluride
The major difference is the looks of this car on which KIA has dedicatedly worked on. This vehicle is also 7 inches longer than the previous versions and model KIA has produced.
Talking about the interior of this car, the inside cabin is very spacious as extra inches have been added to this vehicle. Moreover, the interior is luxurious looking which makes this car win the game of looks inside out.
Coming towards the engine of this car is which is a DOHC 24-value V-6 engine that gives 291 horsepower at 6000rpm with direct fuel injection.
Brand New Tech features in 2022 KIA Telluride
This 2022 KIA Telluride comes with the 10.3 inches touchscreen replacing the 8 inches screen that comes with its older models and a dual-screen rear entertainment system which is made available for all trims for $1500.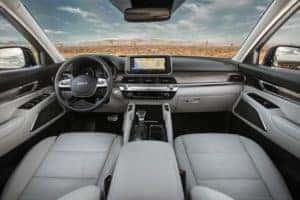 Semi-automatic Adaptive Cruise Control
For the new 2022 KIA Telluride, there is a feature that KIA has started incorporating in its vehicles is that Semi-automatic Adaptive cruise control system which helps automatically keep a speed that maintains a safe distance from other vehicles.
Safe Exit Assitance
This feature uses the radar system to detect any vehicle approaching from behind and alerts the driver about it.
New Interior Features in the 2022 KIA Telluride
Plenty of Space for second-row Passengers and cargo
There is plenty of space for the passengers as well as cargo in this vehicle. The difference is that this model has plenty of space for the second-row passengers as well which was not quite roomy in the older version.
Upgraded interior
The interior of 2022 KIA Telluride is fancy looking and made the interior lining and textures in a way to give it upscale looks. The cabin has aesthetic looks and the seats are given an upgrade with leather coverings.
New Exterior Features of the 2022 KIA Telluride
Size
The overall size of this car has increased by 7 inches which make this car long and makes the cabin roomier.
New Logo design
KIA has redesigned its logo for this new model which is given a different font and more spacing.
Sleek Looks
This model is getting praised mainly because of its looks. This vehicle has the right balance of cuts, angels, and curves which gives it a sleek and modern look.
In my opinion, this 2022 KIA Telluride model is the gold of its similar segment of vehicles. The smooth and effortless ride on-road and off-road makes it a good option for adventures and the plenty of space for passengers and cargo makes it the best for longer journeys. Furthermore, the looks of it are to die for so if you want a whole package of looks, space, and affordability then this car is made for you.
Pre Order a 2022 KIA Telluride Today
If you can't wait to get your hands on the new 2022 KIA Telluride, we can help you get it as soon as it hits the market. If you are in the High Point, NC area, come on down to Carolina Kia and we will make sure that you are the first in line to get a new KIA when we get them on our lot. If you have any more questions about the availability of the 2022 KIA Telluride, fill out the contact form below and we will get back to you with the answers as soon as possible.