July 4th 2021 Kia Sales Event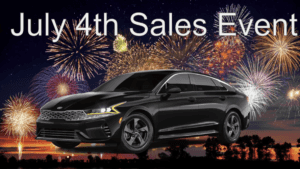 There is no doubt that the coming Kia sale event which is expected to take place on the 4th of July 2021 promises to be fascinating. This is because it gives you the chance to buy a Kia car at a discounted price. Of course, it is no secret that Kia is one of the heavyweights in the automobile industry. This means its cars are quite expensive due to their advanced and highly sophisticated features. Do you want to know the good part about all of their models? That is what we will cover below.
July 4th, 2021 Kia Sales Event is the way out
Have you been looking for how to purchase or lease a brand-new Kia car with your limited budget? There is no better way than taking advantage of what the upcoming July 4th, 2021 Kia Sales Event has got to offer. It's true that there have been other events where prices have been slashed in the past, however, this one is special as there are huge discounts to be found.
July 4th, 2021 Kia K5 Deals
Have you been wondering how to purchase a Kia K5 at a discounted price in 2021? There is no need to rack your brains any further as July 4th will present you with the perfect chance of snapping up this car. This event promises to be the biggest ever as compared to others in the past. For instance, you will be offered some of the most generous discounts. All of these are in a bid to ensure you get your dream Kia K5.
Kia K5 is a complete definition of luxury and elegance. For instance, its exterior and interior look gorgeous without the expense of its spaciousness. Both its front and rear seats are very comfortable. If you have always loved Kia Optima in terms of features and functionalities, there is much reason to believe that you will find the K5 fascinating. This is because it is an upgraded version of the former Optima. Therefore, expect something better while driving it on the road.
Imagine the possibility of being the owner of a brand-new Kia K5. The best part is that this can happen without having to put a hole in your pocket on the 4th of July, 2021. This is a rare chance of becoming a proud owner of your dream car. It is one opportunity you wouldn't want to miss out on given the fact that the savings are quite huge. You don't have to save for years before being able to purchase a Kia K5. This is because you can easily purchase one during the event of this upcoming sale.
July 4th, 2021 Kia Forte Deals
The Kia Forte comes with some of the best features and will make you experience true comfort, firsthand. For instance, it has a very large cabin for its size. Its infotainment system is 100% user-friendly also. If you are looking for a compact car, the Kia Forte is the way to go. In terms of road performance, it is highly rated. The same can also be said of its safety features. It is also worthy to note that its fuel consumption is extremely good. This means nothing has been compromised in a bid to enable you to have the perfect driving experience.
Do you know it is possible to get access to a new Kia Fonte despite your limited budget? Of course, this is very possible when you know how to go about it. The secret is being part of the deals that will be offered at Carolina Kia on the 4th of July, 2021. This promises to offer killer deals that can help you get access to a new Kia Forte. This means getting your dream car at the lowest possible price.
July 4th, 2021 Kia Sportage Deals
The Kia Sportage is a fascinating car to drive. The first thing you will notice about this car is its impressive design and is probably why it has been Kia's best-selling SUV. The Sportage has some great safety features too like forward-collision avoidance to ensure pedestrian detection. There is also it's a blind-spot warning, rear cross-traffic alert, and lane departure warning. Furthermore, it comes with heated front seats, push-button start, and keyless entry.
Do you believe it is possible to become an owner of Kia Sportage without bothering about saving all your life? The 4th of July is special because it puts everyone on a level playing field. This means even you can start considering the possibility of owning such a car. For the first time ever, you won't have to bother about not having the required budget to purchase such an expensive car. Lots of huge discounts and crazy deals will be offered to make this possible. It is an event that you have to be part of by all means.
Carolina Kia
Whether you plan to own a Kia Forte, Kia Sportage, or a Kia K5, there is only one place to come for a great deal, and that's Carolina Kia of Highpoint. Our primary goal is to ensure that you can purchase the most modern and sophisticated Kia models in the market irrespective of your budget.
On the 4th of July 2021, the goal is to make your dreams of driving any of these models become a reality. You will be getting access to some of the best deals for the Kia Forte, Kia Sportage, and Kia K5. You will get the best Kia cars that are perfect for not just your budget but also your lifestyle. Contact us today to find out more about 4th of July deals at Carolina Kia!