Which Kia Sorento has a Power Liftgate?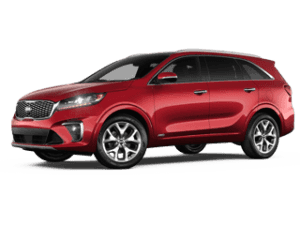 Opening the tailgate of your SUV can be a hassle when you have your hands full.  You could have groceries, sports equipment, luggage, or something else in your hands, just to realize you still need to get into the car.  Sometimes, you simply do not want to put anything down just to pick it back up. 
Luckily, there is a solution for this – the power liftgate.  This feature allows your vehicle to lift the tailgate once it detects the key fob in the general vicinity.  No more struggling with your hands full just to get into your vehicle!  Not every car around has such an incredible amenity included, but Kia makes sure its drivers have the most convenient features available to them.  Does the Kia Sorento offer a power liftgate?  If so, for which years?
2022 Kia Sorento
The 2022 Kia Sorento has four different powertrain options to choose from, depending on the driver's needs.  It also has standard third-row seating with optional second-row captain's chairs.  Since it underwent a complete redesign the year before, the Sorento did not include many updates.  Its X-Line trim, however, does bring an off-road capability to the midsize SUV.  It has its own unique tires and bumpers, an inch higher ground clearance, among other features.
The 2022 Kia Sorento does offer a power liftgate.
2021 Kia Sorento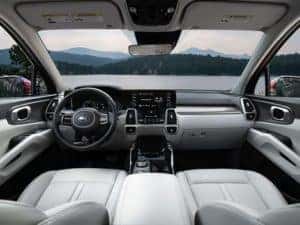 The 2021 Kia Sorento underwent a complete remodel.  With this came a new Hybrid model, more safety technology, the introduction of the X-Line trim, better fuel economy, new cosmetic styling, and more.  This is the fourth generation of the Sorento.  The new generation Sorento has a maximum towing capacity of 3,500 pounds, slightly lower than the previous 5,000 pounds.
A power liftgate is available on the 2021 Kia Sorento.
2020 Kia Sorento
The 2020 Sorento mainly changed around its trims before its big remodel.  It dropped the SX Limited trim, but added a new S trim instead.  Additionally, the EX Sport trim was renamed the EX.  During this year, the V6 engine was still available, a feature that has been dropped since the remodel.  The Sorento offered a roomy 73 cubic feet of cargo space with both the second and third row of seating folded down.
In 2020, the Kia Sorento offers a power liftgate.
2019 Kia Sorento
The 2019 Sorento updated the front and rear styling of the SUV, and freshened up the interior a little bit as well.  Additionally, they added new safety features to the vehicle as well.  These include front parking sensors, lane keep assist, and driver drowsiness monitoring.  Drivers could no longer opt for a two-row Sorento beginning this year.  Apple CarPlay and Android Auto became standard during this year as well.
For 2019, the Kia Sorento offers a power liftgate.
2018 Kia Sorento
The 2018 Sorento added power-folding side mirrors, as well as a Cool and Connected package that adds dual-zone climate control and Apple CarPlay and Android Auto to the vehicle. The Sorento also includes automatic emergency braking as an added safety feature.  Many other standard features come included, such as keyless entry, cruise control, Bluetooth, USB connectivity, automatic headlights, and more.
Kia offers a power liftgate on the 2018 Sorento, now standard on the EX trim.
2017 Kia Sorento
This year of the Sorento does not provide many updates, as it is the first year after a remodel.  However, Apple CarPlay and Android Auto became available, as well as the automatic emergency braking system, during this year.  The SUV has an easy to use infotainment system to go along with the rest of its new interior.  Additionally, the Sorento is incredibly easy to handle for an SUV of its size.
The 2017 Kia Sorento offers drivers a power liftgate.
2016 Kia Sorento
The 2016 Kia Sorento underwent a complete redesign.  With this came great safety ratings for the SUV – this is no surprise, considering all of the available safety features.  Three engine options are available, as well as the choice between a two-row and three-row vehicle.  This generation of the Sorento is slightly larger than the previous one, although it still has great handling capabilities. 
Luckily, a power liftgate is available on the 2016 Kia Sorento.
2015 Kia Sorento
Since this is the last year before a big redesign, the 2015 Kia Sorento did not offer many new updates to the SUV.  The main updates were minor tweaks to the grille, as well as the option to add navigation to the vehicle.  A new, more fuel-efficient four-cylinder engine became available as well for drivers to choose from.  The Sorento includes an 8-inch infotainment system, panoramic sunroof, heated steering wheel, and 10-speaker audio system.
The 2015 Kia Sorento has an available power liftgate.
Visit Carolina Kia Today!
Are you looking for a new or used Kia Sorento near the High Point, North Carolina area?  Carolina Kia has multiple Sorento models available in our inventory, along with many other incredible Kia vehicles.  Our experts are happy to show you exactly how the power liftgate works on Kia models, including your favorite Sorento vehicle.
Our family-owned dealership is proud to bring you some of the most competitive prices around.  Contact us today by using the form below or stop by Carolina Kia at your convenience to test drive any of our vehicles.  From there, we can help you find your perfect vehicle.  We hope to see you soon!